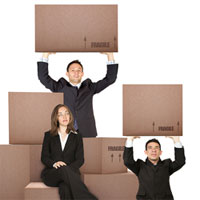 Priority Cargo India Pvt. Ltd. moves people all over the world. Our clients benefit from our experience by reducing their risk and by keeping the relocation costs controlled and within budget. The relocating employee and family must be looked after to ensure a successful assignment. With a few tools and our tremendous knowledge, we will help you outline and implement your corporate relocation project meticulously.

Priority Cargo India Pvt. Ltd. offers support for Corporate Relocation. A major and yet, exciting challenge is when an organisation decides to move to a new location. run smoothly, on time and within budget, it is a major coup. If, however, it is poorly executed this will have adrastic affect on the morale of the staff and will have serious consequences on the productivity of services. It is absolutely essential that all aspects of the intended move are considered, and this is where Priority Cargo India Pvt. Ltd. direct experience comes into play. With a team of dedicated and enthusiastic professional Move Advisers and Relocation Project Managers, Priority Cargo India Pvt. Ltd. willdeliver that successful relocation.

We can design a new relocation policy and advise on your current policy by using our extensive experience and industry-benchmarking data. When you have a clear and comprehensive policy in place you can reduce your risks and improve your internal communications with all staff that may be affected by the relocation.